Luschka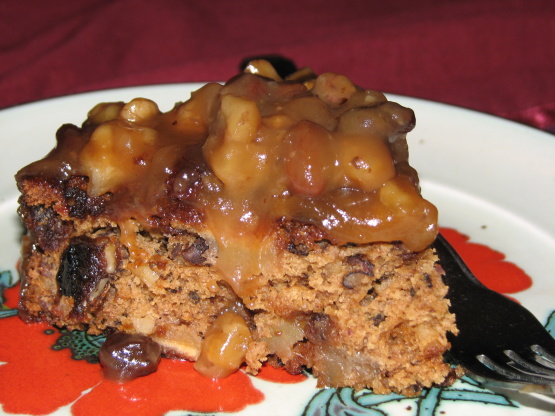 A sweet and tasty apple cake!

I made this for DH using regular sugar and he just ate 1/4 of it for lunch! he said that I'd likely need to make another soon, lol. Can you rell that it was a full on hit? I went by the recipe but for the nuts which I skipped as he doesn't like them at all. It was fun to make too. Thanks loof :D
Mix apples and 1 cup sugar together and let stand until sugar is dissolved.
Add eggs and mix well.
Sift together the 1 cup flour, cinnamon, and baking soda. Stir into apple mixture.
Add 1 cup walnuts, 3/4 cup raisins, and 1 teaspoon vanilla.
Pour into a greased 8x8 pan and bake at 375 degrees for 40-45 minutes.
While cake is baking, mix 1/2 cup brown sugar, 1/2 cup sugar, 1 cup water, and 2 tablespoons flour in a small saucepan.
Cook over medium heat until slightly thick and clear.
Add butter, 1 teaspoon vanilla, 1/2 cup walnuts, and 1/2 cup raisins and stir until butter is melted.
Pour topping over hot baked cake while still in pan.