Apple, Prune and Peach Christmas Pudding
katew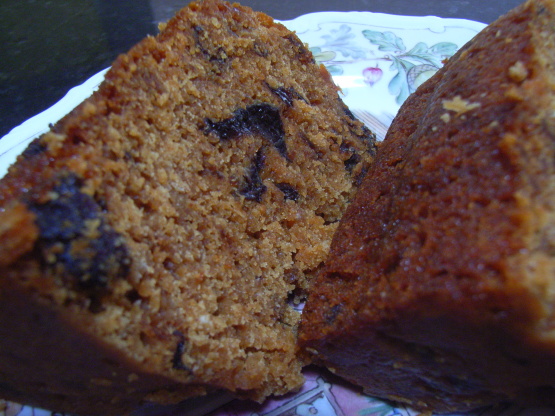 I found this in a supermarket magazine. I fully intended to make this for Christmas, but work and other commitments conspired against me and I haven't made it. My plan when I made it was to change the cup of currants to a cup of cranberries and throw in some slivered almonds as an extra. The grams v's cups mix up is because prunes and peaches come in this size pack.

Top Review by katew
I made this using prunes, apples and raisins as I had no peaches and it was a huge success. Very easy to do and on such a wintry Easter Monday it sat bubbling away on the stove. It was fabulous flavourwise and moist. It does not need to be Xmas for it to be made and enjoyed as I found out. I took a big slice to work today and cut it into squares and everyone loved it and commented on how moist it was.
Place dried fruit, sugar, butter, juice and rind in a medium saucepan. Bring to boil stirring occasionally until butter has melted and sugar dissolved. Add apple. Transfer to a large bowl to cool.
Grease a 6 cup pudding basin and line base with baking paper.Pour over the golden syrup.
Stir the eggs into the fruit mixture and mix well. Fold through the breadcrumbs and flour.
Spoon the pudding mixture into prepared basin packing down firmly as you go. Cover the basin with a circle of buttered non-stick baking paper and two circles of foil. Tie securely with kitchen string.
Stand pudding on a trivet (heatproof raised rack) inside a large saucepan or stockpot. Fill with enough hot water to come 2/3 up the side of basin.
Cover pot with a lid and simmer for 5 hours, topping up the pot with boiling water as needed. Don't let it boil dry.
Cool and store in basin in fridge until Christmas.
To reheat, boil pudding using the method above, for 2 hours. Serve with custard, brandy cream or icecream and decorate with berries.