twissis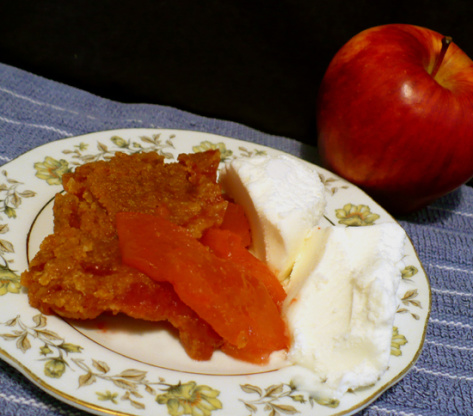 From Recipes and Remembrances, Squaw Mound Homemakers Club, Crawford, Nebraska, 2000. This recipe is for the filling only - use your own favorite recipe for a double crust or use a pre-made frozen one from the grocery store. I use whatever apples are in season or on sale - sometimes crab apples (I have to use about a dozen).

Oh my, this is great! I made the core recipe exactly as written, but changed the presentation & made it as an apple crisp. Served w/frozen vanilla yogurt, my DH & his guests were very impressed. It was more liquid than would be ideal for a pie IMO & I guess the apples used could be the culprit, but I think a 2nd tbsp of flour will correct for that easily. Looks like I am gonna need to start bringing more cinnamon candies back from the U.S. Thx for sharing this new fave recipe w/us. :-)
Boil red hots, water and sugar until red hots are dissolved. Add apples to juice and cook until tender. Add lemon juice and flour, which has been mixed with the melted butter. Bake with a double crust about 40 minutes at 350*F.