Diana 2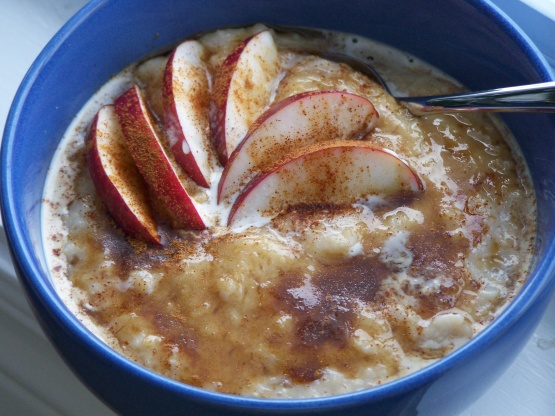 This recipe was featured in an email that I received this morning from Splenda: "Start your day with a bowl of steaming oatmeal. It is even better topped with toasted nuts, fruits, milk or cream, and do not forget to sweeten."

Your Pictures Are So GREAT ! I Love 'Em !
Stovetop Directions: Bring water to a boil in a small saucepan. Stir in oats and salt. Cook, stirring occasionally, over medium heat 5 minutes.
Microwave Directions: Combine water, oats, and salt in a microwave-safe bowl. Cover tightly with heavy-duty plastic wrap; fold back a small edge to allow steam to escape. Microwave on HIGH 2 1/2 to 3 minutes; stir well.
Top oatmeal with SPLENDA® Brown Sugar Blend, chopped apple and spice.
Note: Serving Size: 1 recipe.
For a creamier oatmeal, substitute skim milk for water; proceed as directed.