Annacia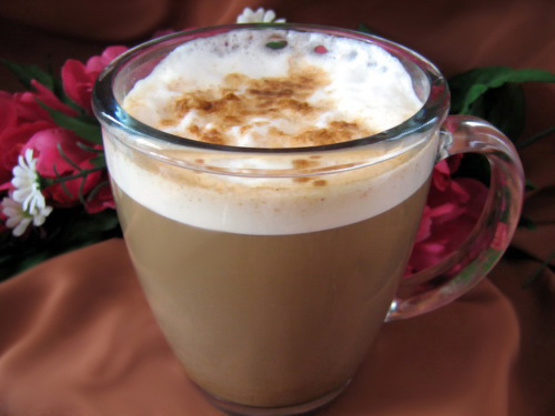 A latte that tastes like apple pie. From Cappuccino Espresso the Book of Beverages by Christie and Thomas Katona.

It's amazing just how much this coffee does taste like apple pie! I replaced the syrup with an ounce of unsweetened apple juice with 2 tsps of Splenda. I used apple pie spice for the cinnamon (ok, I used 8 oz's of brewed coffee and I'm still working on the steamed/formed milk part). The milk I frothed was skim so I had a very low sugar and fat free afternoon treat. It's yummy and would be the perfect thing for Fall and winter warm up's :D. Made for Photo Tag.
28.34

g apple syrup

0.25

ml cinnamon syrup

1

fluid ounce espresso
milk, steamed and foamed
cinnamon, for garnish
In an 8-ounce cup, combine syrups and espresso.
Fill cup with steamed milk, top with a small dollop of foamed milk and sprinkle with cinnamon.
Serve immediately.