Lalaloula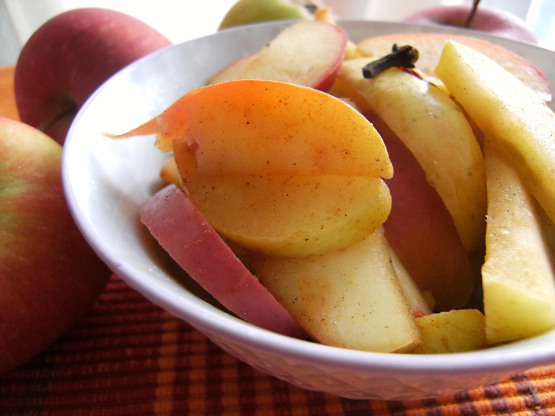 I couple this with 1 quantity of my shortcrust pastry Shortcrust Pastry, will give instructions as a note at the end of the filling recipe. Times will not include for making the pie. I put this one by my dietician and she's o'kayed it for diabetics as the sugar is very minimal over one slice. Please note I use granny smith apples and the end result is a tarty tasting filling and not sweet or gelatinous like a lot of commercial products. As an extra I've been known to forget and overcook the filling and it has made great apple sauce but then again not sweet.

Simply wonderful! So easy to prepare and soooooooo delicious! Mmm, the cloves and cinnamon add a wonderful warm touch and are the perfect addition to this fruity filling. Mmmm!
I actually used the filling in an apple tiramisu, which turned out really, really great and I think its all thanks to your wonderful apple recipe. I will use this for all my pie fillings and applesauces from now on, theres none I have liked better.
THANK YOU SO MUCH for sharing this wonderful, wonderful recipe with us, Pat!
Made and reviewed for WTTM Tag February 2011.
Peel, quarter and core apples, slice quarters.
Put sliced apple into a pot with cinnamon, cloves and lemon juice.
Cook over a medium heat until apples are tender (I don't like them mushy).
Leave to cool and remove whole cloves before using apple filling.
NOTES FOR APPLE PIE.
Roll out half of pastry on a floured surface and line 23cm pie plate.
Fill with apple filling. Brush rim of pastry with a little milk.
Roll other half of pastry out and cover the top of the pie.
You could decorate the edge of the pie with the tines of a fork.
Trim excess pastry from the edge of the plate.
Brush milk over the top of the pie. Decorate the top with excess pastry if you want (I usually cut out leave shapes). Cut a few small slits in the pastry to let steam escape.
Sprinkle top with 1 teaspoon of sugar.
Put into a preheated 180 degree celsius oven for 25 - 30 minutes until pastry is golden.
Enjoy warm with cream and or icecream or even cold by itself.