Apple Pie by Grandma Ople

Up until I made THIS apple pie, I had hated apple pies my entire life! It didn't matter if I bought them or made them; it didn't matter if they were Dutch or Crumb-crust or plain crust...I couldn't get past the overly sweet/cinnamony insipidness of the filling. However, things have now changed, forever. A friend begged me to make them an apple pie, and I found this recipe on a website where it had garnered 1,617 five star reviews! I read over 40 of the reviews and the version of the pie recipe that I'm posting is based on THEIR tweaking it. The original pie had too many calories for some and no seasonings: suggestions included cutting the syrup in 1/2, adding vanilla and some spices. It also included several helpful hints on adding the buttery caramel syrup. Please do yourself a favour: whether you adore apple pie or have always avoided it as I have, MAKE THIS PIE!!!! If you want to make it with the original recipe, here is the link: http://allrecipes.com/Recipe/Apple-Pie-by-Grandma-Ople/Detail.aspx?src=etaf. My many thanks and appreciation to the original poster, Moshamama.
Directions
Preheat oven to 425°F (220°C).
Process the apple slices.
Melt the butter in a large Dutch oven. Stir in cornstarch to form a paste.
Add the apple juice, white sugar and brown sugar, and bring to a boil.
Reduce temperature and let simmer. When very bubbly and slightly thickened, remove from heat and add the vanilla and spices. Dump the apple slices into the syrup and stir thoroughly to coat.
Place the bottom crust in your pan.
Fill with apples, mounded slightly and packed well.
Gently spoon the caramel-coated apples, minus the syrup, into the crust. Then pour most of the syrup evenly over the apples, reserving enough to brush over the top crust.
Cover with a lattice work of crust. Pour or brush the sugar and butter liquid over the crust.
Bake 15 minutes in the preheated oven. Reduce the temperature to 350°F (175°C).
Continue baking for 35 to 45 minutes, until apples are soft and crust is a light golden brown.
Reviews
Most Helpful
I made 2 of these apple pies for a wedding at our church. One of the young couples got married on friday so everyone from church brought in their homemade food/desserts to help cut the cost of their wedding. I had so many people asking me for this recipe, that I had to promise to send them the recipe either by email or bring it in to church this sunday. Needless to say this Apple pie and your Angel food cake--deluxe x330370 was a big hit. Thanks for posting these wonderful recipes. Made for Spring PAC 2009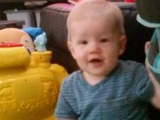 Ok, I am not rating this pie because I want to make it again. I lost my last post but here is what I did: I used 7 grannies and got a mountain of a 12" pie. I baked it for 15 minutes at 325 and then lowered the temperature to 350 for 45 minutes. The apples were still raw so I let it go another 20 minutes and after dinner DH said the apples were too crunchy so I threw it back into the over for another 45 minutes. It was done and I served up another slice and it was in need of some spices. Soooo, I will make another one and return to give it some stars. Also, I think I needed a little more goo for that big pie. SA UPDATE: Ok the mystery apples in the bin at the grocery store worked very well. I am so pleased with this pie recipe I could scream. I did fill the pie with the goo and then laticed it and brushed it with the leftover goo. Very nice. Loved it to death and will say it is right up there with the best apple pie in the universe. Thanks for posting. Camera is on the fritz but I promise to shoot the next pie. Thanks again Swedie.

I think this is very good. But apple pie without cinnamon? lol, say it ain't so! I reduced the nutmeg to about 1/4 teaspoon and added a healthy rounded teaspoon of Vietnamese cinnamon. I used a combination of Granny Smith and Macintosh apples. I found the balance of the flavors perfect. The relatively small amount of sugar suits my taste to a T.