najwa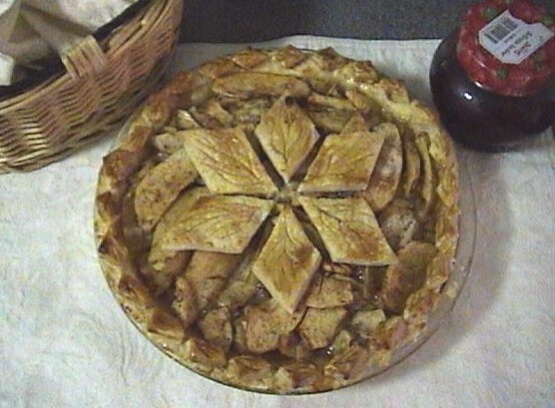 From "The Practical Encylcopedia of Baking". The original recipe is made with tart apples, but I prefer red delicious.

I supposed I went a little too enthusiastic with the lemon juice : I put a bit more than prescribed while preparing the apples because I didn't want them to rust. I think this extra liquid explains why the bottom crust of the pie ended up somewhat soaked, even though I had put the crust alone in the oven beforehand to make sure it would be properly baked.
So I suppose it can be a great pie, but I kind of messed it up.. :(
Preheat oven to 450F.
Combine flour and salt, cut in shortening until mixture resembles coarse crumbs.
Add enough water a tablespoon at a time, until the dough forms a ball.
Divide dough in half, roll out one half and put in a 9 inch pie pan, roll out other half and cut into leaf shapes (Make small leaves for the edges and large leaves for the center).
Combine the filling ingredients except for the butter and egg, fill the pie, and dot with the butter.
Arrange the leaves on top, and brush with the egg.
Bake 10 minutes, reduce temp to 350F and bake for 35-45 minutes.
Cool pie completely in pan.