jonesies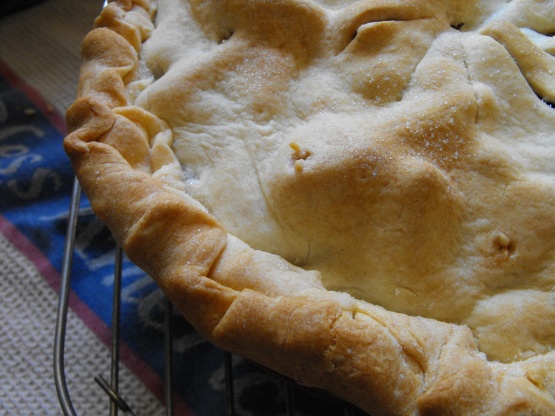 This is the apple pie I've been making for years and if using Pillsbury pie crusts (ready-made pie dough in the dairy section) is the perfect pie-making project for kids. Recipe adapted from an old church cookbook.

This recipe was really easy and very delicious! I've never made a pie before, and it came out perfect. Thanks for sharing!
6 -7

large apples

1

cup sugar, divided

1

pinch nutmeg

1

pinch cinnamon

2

tablespoons flour

1

pastry for double-crust pie (or use Pillsbury pie dough, in dairy section of grocery store(package has ready-made crust for pie)
Preheat oven to 350°F.
Line pie pan with bottom crust.
Peel and slice apples.
Put 1/2 of the apple slices in prepared pie pan.
Sprinkle apple slices with 1/2 cup sugar, a little nutmeg and cinnamon.
Add rest of apples and top with rest of sugar (1/2 cup), a little nutmeg cinnamon, flour and butter or margarine cut into small pieces.
Sprinkle with lemon juice.
Cover with top crust.
Crimp edges together with fork.
Sprinkle top with sugar and cut steam vents in top crust.
Put pie on baking sheet in case of spill-overs.
Bake for 1 hour at 350°F.