Annacia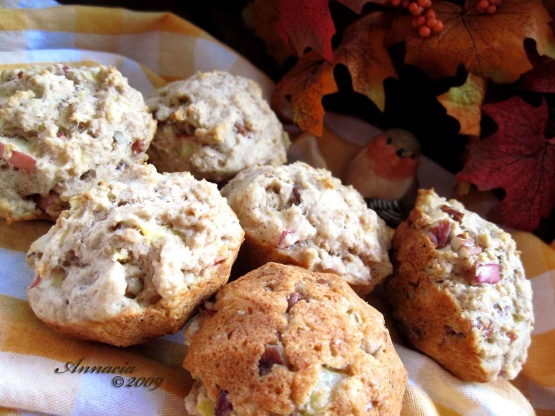 Taken from an All you need is Cheese cookbook

The first thing I need to say is that I skipped the cheese to avoid all of that sat fat. Now, having said that, these were really delicious. I reversed the amounts of whole wheat and a.p. flours and Splenda brown sugar blend in about 2/3 the amount ask for. Fuji apple worked a charm here. I made the recipe in the amount of 3 and got 6 lovely standard muffins. Perfect for Fall :D.
Preheat oven to 375°F.
Butter non-stick muffin pans or line with paper liners.
In a large bowl combine flours, cheese, baking powder, cinnamon and salt.
Stir in apples and pecans.
In another bowl, whisk together egg, milk, sugar and butter.
Pour over dry ingredients and stir until just moistened.
Spoon into muffin pan.
Bake for 22-25 minutes or until tops are firm to the touch.
Let cool in pan for 5 minutes before removing.