Bev I Am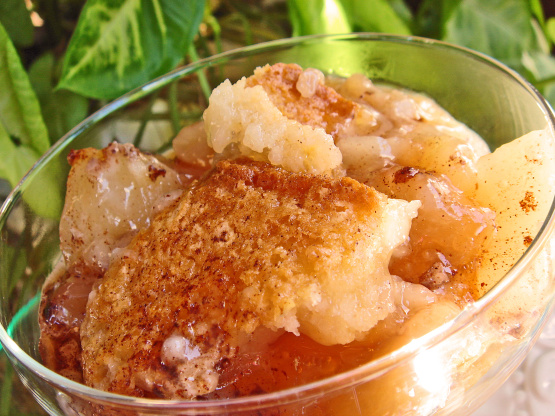 Recipe by Bev
I created this recipe wanting a cobbler, yet only having canned ingredients on hand. I kind of surprised myself by how well it came out! I hope you will enjoy it as much as I do!

Bev,first I must say that my SO and I thought that this was very good.I followed the directions as written,but baking this in an 8x 8 inch pan I had to let it bake for about 15 more minutes. Even having to bake this for a little longer than stated ,it made a perfect ending to our Memorial Day Dinner.If I make this again,I will bake this in a 2 quart rectangle baking dish for the suggested baking time."Keep Smiling:)"
Preheat oven to 350 degrees.
Cut butter into pieces and place in 8x8" pan.
Place pan in preheated oven to melt butter.
While butter melts, combine flour and sugar.
Slowly add milk to flour mixture, stirring to combine; set aside.
Drain pears from syrup, saving syrup.
In another bowl, combine pears and apple filling.
When butter is melted, removed pan with butter from oven; pour in batter; do not stir.
Place apples and pears on top of batter; top evenly with saved pear syrup.
Sprinkle with cinnamon (if using).
Bake in 350 degree oven for 45 minutes.