gailanng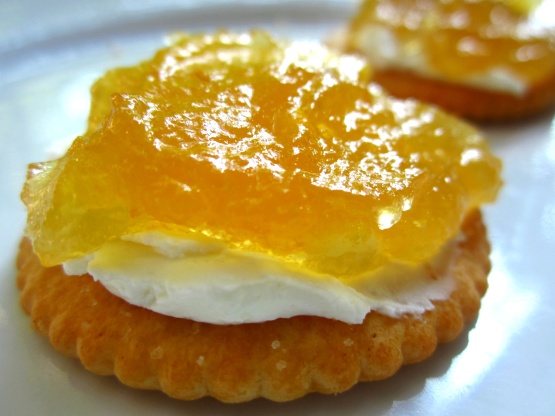 This is one way to use up those mealy or past prime apples, but any apple will do. It isn't necessary to cut the paste into cubes, but may be stored in a jar, such as a Mason Jar and scooped out. Also, it can be used in any recipe that calls for guava paste. Serve as an appetizer with cheese squares or cream cheese and crackers. May, also, be given as a gift or used in turnovers, empanadas, etc. Cook time is divided into two phases.
Line a 8" or 9" cake pan with parchment paper which has been lightly greased with vegetable oil. (Place your squeezed lemon juice by your prepared pan so you don't forget.).
Put the apples in a large saucepan and add water, just to cover. Bring to a boil and cover pan with a lid. Cook for about 30 – 40 minutes until apples are very soft.
Strain and discard the liquid. (Note: I strained mine in a colander and lightly pressed with the back of a spoon to release some liquid.) Place the apples in a food processor or blender and puree/pulverize into a fine pulp. Measure how many cups puree.
Return the apple pulp to the saucepan and allow 1 cup of sugar for each 2 cups of puree. Over low heat dissolve the sugar then increase heat, stirring continuously with a wooden spoon until the mixture is very thick, about 45-50 minutes. Adjust heat as you go. The mixture will deepen in color and considerably pull away from the sides and bottom of the pan. When drawing a spoon through the paste, if the drawn line in the bottom of the pan does not disappear, it is thick enough.
Stir in the lemon juice.
With a spatula, spread the paste evenly to form a slab. Cool completely. Invert onto a platter and allow to dry for a day or two. Cut into cubes. (Note: If you didn't cook the mixture long enough, it is possible to firm it by placing the pan in a low oven for a few minutes to dry.).
Store in an airtight container.