Boomette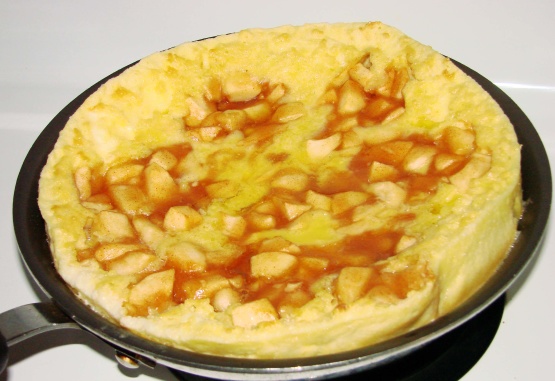 History in the Baking. they have a place here that makes them up at Mayo Clinic. That's what they make up here in Minnesota. if you like popvovers you will like this it fast and easy
Delicious!!! My DD is home from college for a visit before fall semester starts, so I made this for our breakfast this morning and we both loved it. I didn't have apple pie filling, so made my own, using 2 small granny smith apples, 1/2 tsp cinnamon and 1/2 cup brown sugar, which I cooked all of this in the butter and then topped with the batter and baked it as directed. This made a wonderful filling and a wonderful sweet treat for our breakfast!! Thanks for sharing the recipe. Made for ZWT 9.
Melt butter in an 8x8 inch pan.
Mix milk, flour, and eggs until smooth.
Pour into pan.
Spoon on apple filling.
Bake at 400 degrees Fahrenheit for 25 minutes.
Serve immediately. It will fall.