Apple Pancakes with Amaretto Pecan Syrup
Debber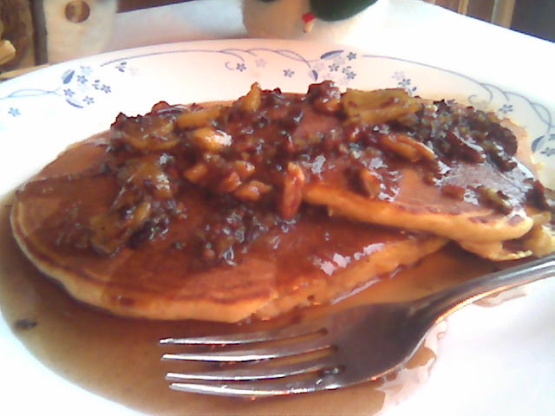 A heavenly way to start the day! Serve this to your Loved one in Bed! That is if their nose doesn't bring them into the kitchen first!Use the syrup on waffles or even a pork roast!

These pancakes are heavenly, and it's all thanks to the syrup! As soon as I smelled the aroma of the amaretto wafting through the kitchen, I knew I was in for a treat. I made the pancakes using "soy buttermilk" and used McIntosh apples in the syrup because I had a lot on hand. My mom and I had this for dinner tonight, and we both loved it. We felt like we were in a trendy restaurant. I can't wait to try the syrup on other things as well. Thanks for another keeper, Rita!
Syrup: Melt butter, add nuts: brown lightly: remove nuts.
Add maple syrup, cinnamon and salt to butter in saucepan.
Add Amaretto,& apples cover simmer slowly 10 minutes.
Remove cover simmer about 3 minutes longer.
Remove from heat, add nuts.
Replace cover to keep warm while making pancakes.
Pancakes: Sift together the dry ingredients.
Combine eggs, buttermilk and butter.
Fold into dry ingredients.
Do not over mix.
Coat the apples with cinnamon and cardamom and fold into batter.
Cook on hot lightly greased griddle and serve with warm maple syrup.