Prep 10 mins
Cook 10 mins
A recipe I found on Taste.com.au to post here for Australia's leg of ZWT.
Directions
Combine flour, sugar and cinnamon in a bowl. Add egg and milk. Whisk until smooth. Stir in apples.
Heat a non-stick frying pan over low heat. Spray with oil. Pour 1/4 cup of apple mixture into pan. Gently spread out with the back of a spoon to a 10cm round. Cook pancakes, in batches, for 2 minutes or until bubbles appear on surface. Turn over. Cook for 1 to 2 minutes or until cooked through.
Serve with kiwifruit and frozen yoghurt.
Reviews
Most Helpful
These are excellent!! I love the grated apple with the cinnamon. The pancakes turned out fluffy and moist and oh-so-delicious. My daughter loves kiwis, so that was an added bonus to these pancakes. These are really very simple to make and would be great to serve to overnight guests. Thanks!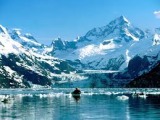 Have I told you that I love pancakes. These are awesome, I never would have thought to pair green apples and kiwi fruit with pancakes, brilliant diner, just brilliant. The kiwi's really do enhance the apple flavor. Just the right amount of cinnamon to make these pancakes memorable. I didn't have any yogurt so was decadent and used a small spoonful of french vanilla ice cream instead. Sooo good. They were light and fluffy, just perfect. I also had to watch them carefully as my first batch burned....but they are definitely worth the extra effort. Thank you for sharing a recipe that I will enjoy again and again. Made for the Fearless Red Dragons - ZWT-8 - Australia
Great breakfast - I had mine with syrup, the kids used a lemon sauce. Loved the cinamon addition. Thanks diner! Made for ZWT8 Family Picks.