diner524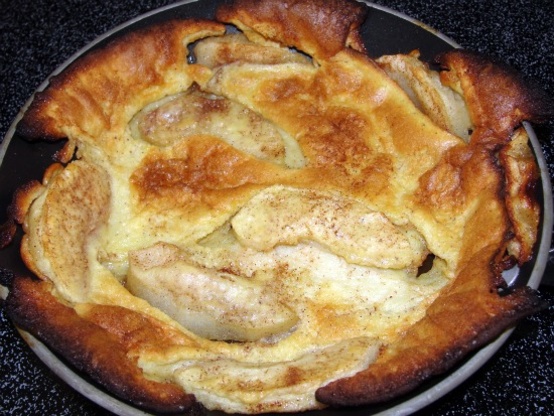 I have been making oven pancakes for years in my iron skillets, but just recently purchased a special oven pancake pan (it looks like a flat wok). This recipe was adapted from the recipes that came with the pan. We serve it with sour or whipped cream, honey, maple syrup, etc. It's good with any of the topping choices. It's relatively low in sugar, so my diabetic mother can enjoy it. Although you are supposed to let the batter rest at least 30 minutes, I have gone ahead and baked it (I do usually let it rest though). I have also made the batter the night before and refrigerated it overnight; then I let it come to room temperature before I bake it. That works okay when I know I'll be in a hurry the next morning, but I still prefer the original version. The 30 minute wait for the batter is included in the prep time.

Top Review by Linky
It's okay, not wonderful. The pancake did not puff up at all and was rather dense. Maybe it is not supposed to puff up, but I was expecting puffiness. Flavors were nice, though. REVISE!! I made this again and it was better than I remembered. It did puff up on the edges, still kind of "eggy" but good. Company liked it, too!
Combine the eggs, flour, 1 1/2 tablespoons sugar, the pinch of salt, the baking powder, and the milk in a blender and blend until smooth. Melt 3 tablespoons of the butter and add it, the vanilla, and the 1/8 teaspoon nutmeg to the batter and blend until mixed. Allow to stand at room temperature for 30 minutes.
Place the remaining 2 tablespoons butter in your skillet or oven pancake pan and melt while you are preheating the oven to 400 degrees (watch that you do not let it brown). Swirl the melted butter to coat the sides of the pan.
Combine the 1/3 cup sugar with the 1/2 teaspoon of cinnamon and the pinch of nutmeg. Sprinkle half this sugar mixture over the melted butter in the pan. Evenly layer the apple slices on top. Sprinkle the rest of the sugar mixture over the apples. Bake this for 5 minutes or until the mixture is bubbly.
Gently pour the batter over the apples.
Bake for 15 minutes, reduce the oven temperature to 325 degrees and continue to bake for 10 more minutes. Serve at once with your choice of toppings.