Apple & Orange Salad With Honey-Garlic Dressing
Clara W.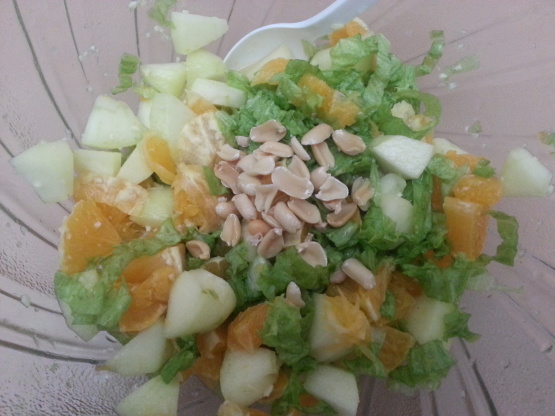 Recipe courtesy of Abingdon Manor Inn & Restaurant. These are the words from Inn Quisine website: Although it's hard to imagine how a recipe of so few ingredients could produce a salad so pleasing, rest assured the honey-garlic dressing sends this salad soaring to new heights." I agree.
59.14

ml honey

59.14

ml oil (may use olive oil)

1

garlic clove, peeled, minced
bibb lettuce, red and green lettuce, chopped (use all or any combination)

1

red apple, thinly sliced (unpeeled)

1

green apple, thinly sliced (unpeeled)

2

large oranges, peeled and sectioned
walnuts, pecans (optional) or almonds, chopped and toasted (optional)
Mix the oil, honey, garlic, salt and pepper in a jar (with lid) and shake before serving.
Tear or cut lettuce(s) into bite-size pieces and mix with apples and oranges. Add the toasted nuts if desired and toss all with dressing. Serve immediately.