Apple or Pear Crisp for One
SashasMommy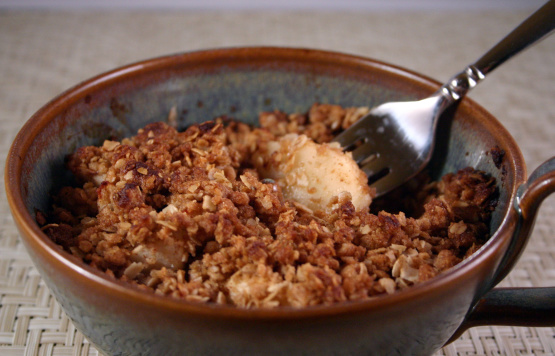 Enjoy this single serving dessert next time you're cooking for one. This can be made in the oven or in the microwave.

This is absolutely delicious! I baked this in the oven, of course. The microwave doesn't cook evenly enough for me. I tossed the apple slices in a mixture of 1 tablespoon granulated sugar, 1 teaspoon flour, and 1/8 teaspoon cinnamon. I also drizzled caramel over the top and it turned out wonderfully! Thank you so much for this recipe!
Place fruit in small baking dish.
In separate bowl, combine all remaining ingredients, then sprinkle over fruit.
Bake at 375°F for 25 minutes OR microwave on high for 2 and 1/2 minutes or until fruit is tender.