Apple or Pear Clafouti (An Easy French Dessert)
LorenLou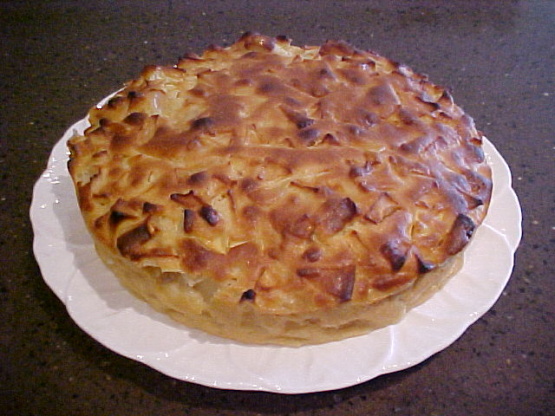 I'd never heard of this dessert until I ate it in a small hotel at the foot of the French Pyrenees. I came back home and was able to find this recipe on the internet-- I believe a French cuisine website, but the name escapes me. Quick, easy, and yummy, too. Preparation time includes resting time.

Oh yum! Very similar to bread pudding and I think it has just the right amount of sweetness to it. I used Almond milk instead of regular milk and also added a tsp of pumpkin pie spice to the mix. Baked it in my Pampered Chef 9in stoneware baker for 30 minutes and it came out perfect. The only problem, some of it stuck to the bottom but it worked out because I got to sample a little bit ;-) Thank you for posting!
Sift flour, sugar and baking powder into a bowl.
Make a well in the center of mixture and add the eggs, milk and vanilla extract.
Mix in well to form a smooth batter.
Add 4 TBS of the melted butter.
Let batter stand for 30 minutes while preparing the fruit.
Pre-heat the oven to 450°F.
Butter an 8 inch round cake tin.
Stir the fruit into the batter and pour into the tin.
Bake for 30 minutes or until a toothpick inserted in the center comes out clean.
Cool in the tin for 5 minutes, then turn out onto a wire rack.
Serve warm, or cold.