Apple Oatmeal Pudding in the Crock Pot
Nimz1466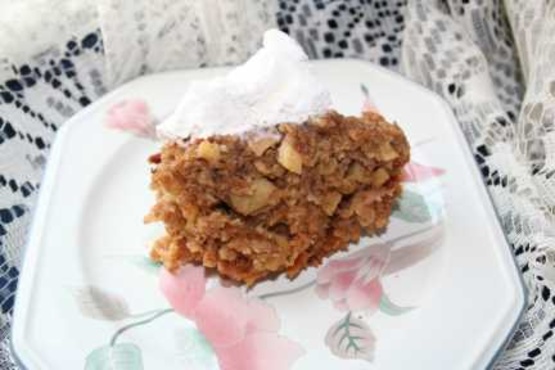 This is comfort food at its best for me, and it is relatively healthy! This tastes like an apple pie with the crumb topping mixed in! This is a slight adaptation of a recipe in "Fix It and Forget it Lightly" and was credited to Sue Hamilton in Minooka, IL. This is very rich and we liked it topped with fat free cool-whip. The original recipe calls for regular white flour, I just prefer to use whole wheat pastry flour.

I live in China, so I don't have an oven and I've been trying to satisfy my cravings with a crock pot. Everything I've made that is supposed to be crunchy or cake-like has turned out kind of rubbery. This recipe turned out the same. The flavor was pretty good, but the texture was not like apple pie with the crumb topping mixed in. It's more like bread pudding with apples. Beggars can't be choosy, but the texture really wasn't what I expected. Thanks anyway!
Spray your slow cooker with cooking spray.
Add the cut up apples.
Add the rest of the ingredients.
Mix well.
It will look like it could not possibly be enough liquid when you first start mixing. But stick with it, it will work!
Cover and cook on low for 4 hours.
Serve hot or cold.