flower7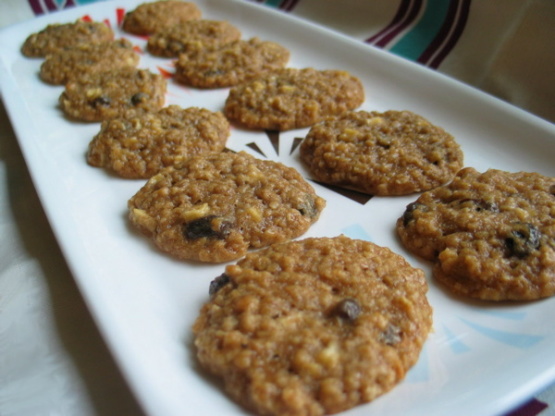 These are wonderful and easy to make cookies. From my Great American Home Baking collection.

I was quite happy with this recipe, but it makes an odd cookie, as can be expected by using oil as the fat. The consistency of the cookies was very soft and quite cake-like, and they tended to fall apart after a couple of days of storage. I agree with the other reviewers that the recipe would make excellent muffins or mini-muffins. I wish I had a mini-muffin pan, but when I make this recipe again, I probably will make it in muffin form instead of cookie form. I used old-fashioned oats that i had chopped more finely with my hand-blender attachment as I don't think this recipe would do well with the more rustic texture of plain old-fashioned oats. I also didn't use raisins. I used Jona-Mac apples peeled and chopped finely, which is a bit labor-intensive but worth it. Next time I also might reduce the brown sugar content as I tend to like things less sweet and would like more of the honey character to come through. A final note, I baked my cookies on parchment paper as suggested in other comments, and the cookies seemed to be a bit more brown on the bottom than I would have expected from their tops.
Preheat oven to 375°F In a medium bowl, combine oats, all-purpose flour, whole wheat flour, brown sugar, baking powder, baking soda, salt and cinnamon.
Stir to combine.
Stir in raisins and apples.
In a large bowl, combine egg, honey, oil and milk.
Stir in dry ingredients.
Mix to form a smooth batter.
Drop batter onto ungreased baking sheets, using a rounded teaspoon of dough for each cookies, leaving 2 inches between.
Dip fingers into water.
Press dough down to about 1 1/2-inch diameter Bake for 10-12 minutes, or until lightly golden Remove sheet from oven.
Transfer cookies to cooling rack.