Kim S.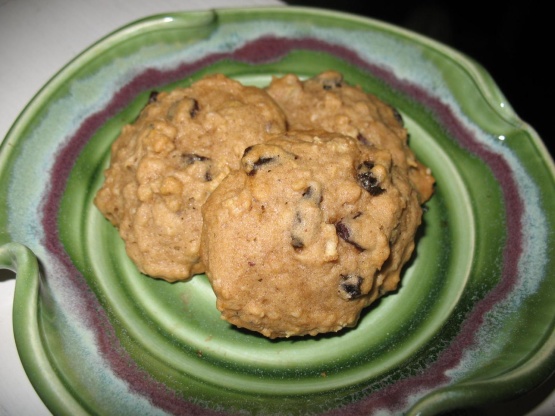 I found this recipe on a search for lemon zest recipes (I had just gotten my Microplane Zester and had fallen in love with it and was zesting lemons and oranges all over the place). The lemon zest doesn't have a starring role in these cookies, but they are pretty yummy, very apple pie-ish.

These have an unusual taste- very wholesome and tasty. I enjoyed them alot. I used pureed pears instead of applesauce, replaced the cloves with a pinch of nutmeg and used orange zest instead of lemon (its all I had). They are perfect for fall. I think that I might reduce the honey and brown sugar a bit next time- a little too sweet for my taste but overall a very different and yummy cookie. Thanks Mirjam.
Preheat the oven to 300 degrees F.
In a bowl, combine the flour, oats, salt, baking soda, cinnamon, cloves and lemon zest.
Mix well with a wire whisk and then set it aside.
Cream the butter and sugar together in a large bowl with an electric mixer.
Add the egg, applesauce and honey, and beat at medium speed until smooth.
Add the flour mixture, fresh apple and raisings.
Blend at a low speed until just combined.
Don't overmix it, and don't worry, it's supposed to be a soft dough.
Drop the dough by rounded tablespoons on to ungreased cookie sheets (I like to cover the sheets in parchment paper).
The cookies should be spaced about 1 ½ inches apart.
Bake for 18-22 minutes, or until the bottoms are golden.