Leslie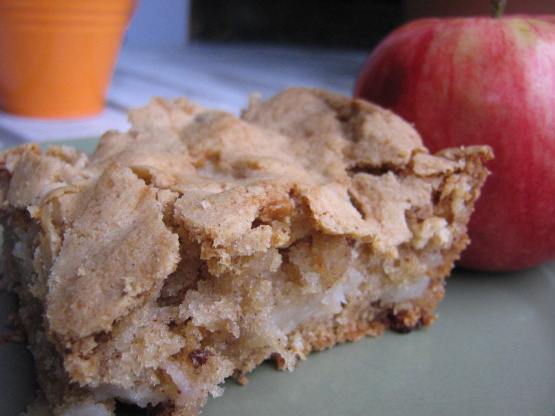 My mom's most requested recipe. This is a moist cake with a crisp top. Very easy to tote to pot lucks. Try it, you'll like it!

Not sure what I did wrong but I didn't get a nice crisp top. Also I did not like the texture of the apples-they were still a little undercooked and hadn't absorbed much of the sugar or cinnamon. I guess I was expecting the apples to have more of an apple pie taste and texture. The next time I will 'stew' the apples first. I did not like this plain but it was nice with ice-cream and caramel sauce. Maybe I did something wrong.
Mix ingredients in order given in a large mixing bowl then fold in apples and nuts.
Spread in a 9 X 13" pan.
Bake at 350° for 40 to 50 minutes.