karen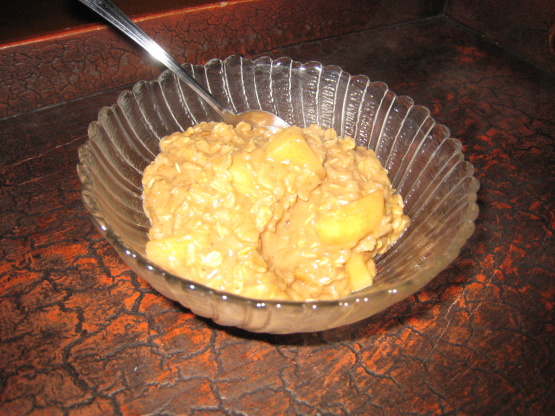 Just something a little different for your morning oatmeal. The simmering apples, brown sugar and cinnamon are sure to make the morning a little brighter.

I have made this twice in the past week! It is very versatile. I used coconut oil and cashew milk the first time and butter with whole milk the 2nd time. Both were equally delicious! I have enjoyed many oatmeal recipes, including baked oatmeal, but this "fried apple" oatmeal recipe is my favorite oatmeal recipe of all time!!! My husband really liked it too and asked me to whip up a batch for dessert after supper tonight! A sincere thank you for sharing this great recipe!
In a small saucepan saute apple in butter for 2-3 minutes or until starting to soften.
Add cinnamon and brown sugar, stir and simmer one minute.
Stir in oatmeal, milk and walnuts if desired.
Stir and cook for 3-5 minutes or until oatmeal is cooked and everything smells good.
Serve with love.