Apple Mustard Glazed Pork Tenderloin
Pamela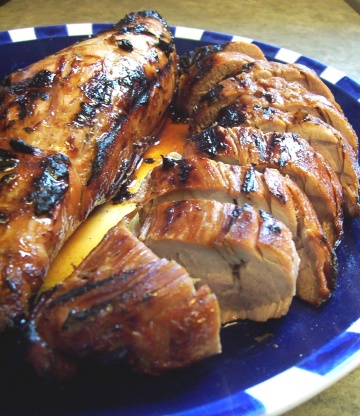 This is the most complemented meat I have EVER made on the BBQ - everyone went crazy for it on Memorial Day - it is delicious, succulent and addictive!! Watch out!

This is delicious! My family raved over this...even the kids. And it was easy to make. I will definitely make it again. Like others, I did not have the Karo specificied on hand -- and I don't use corn syrup in my cooking, so I substituted maple-flavored agave syrup. It was wonderful. I served it with basmati rice, green beans with bacon and onion, and fried cinnamon apples. Thumbs up!
Stir first 4 ingredients together to make the glaze.
Pour half the glaze over the pork and stand for 15-30 minutes.
Roast or Grill pork at 350 degrees for 20-25 mins per side.
Heat remaining glaze on stovetop or in microwave.
Drizzle cooked pork with remaining glaze or serve on side as a dip.