-Sylvie-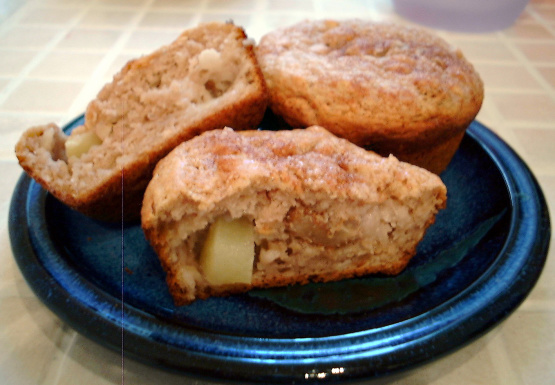 I love the recipe! Now this is my must have breakfast. Wonderful with a cup of coffee in the morning. I love the mature taste - not too sweet.

In fact, I one-upped the recipe by making my my apple sauce fresh with no sugar. If you are like me and don't want too much sugar in your food, here is how I do it:
- Skin, core, and dice about three apples (I always use the sweeter kinds - gala, red delicious, pink lady, etc.)
- Put into a pot and add water to just above the apples
- Once tender, mash the apples

Now you have perfect unsweetened apple sauce. Makes the recipe perfect.
Mix all dry ingredients set aside.
Mix all wet ingredients.
Add dry ingredients to wet.
Fill muffin cups 3/4 full.
Sprinkle a little sugar and cinnamon on each muffin before baking.
Bake at 400 deg.
for 20-25 minutes .
Cool 5 minutes and remove from pans.