Leslie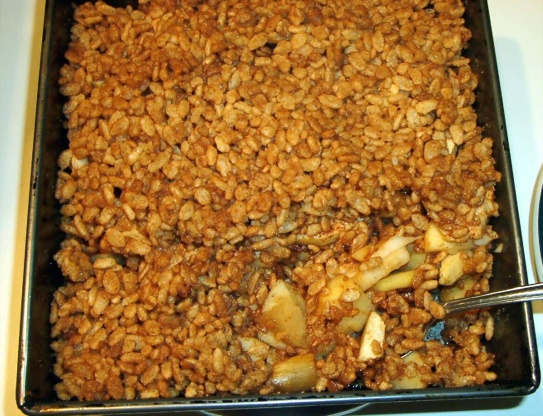 Found this recipe on another website. Sounds so good!!

This recipe tasted good, but they sure weren't bars (as the serving suggested). I had thought they would be like apple crisp, however, so that was what I was expecting and that's what I got. The Rice Krispies add a nice crunch, but if you have any extra juice from the apples on the bottom of the pan, as soon as the Rice Krispies touch the liquid they become soggy. I decreased the sugar for personal prefrence. None the less this is a tasty quick recipe that is great served with some yougurt or ice cream.
vegetable oil cooking spray

6

cups peeled thinly sliced apples
1⁄2 cup brown sugar

2

cups Rice Krispies
1⁄4 teaspoon cinnamon
Preheat oven to 350°F.
Spray an 8-inch square baking pan with non-stick vegetable spray.
Spread the apples evenly in the prepared pan.
In a mixing bowl, combine the brown sugar and butter with a pastry blender until crumbly.
Using a wooden spoon, stir the cereal into the butter mixture.
Sprinkle the cereal topping over the apples.
Bake for 20 minutes or until apples are tender and topping is light brown.