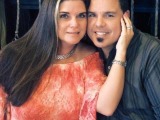 This is a nice blend of juices that is great with breakfast or anytime.
Directions
In a large pitcher, stir together the apple juice, orange juice, pineapple juice and lemon juice.
Mix and pour into glasses full of ice to serve.
Garnish each serving with a mint leaf.
Reviews
Most Helpful
REFRESHING FRUITY and TART! My kind of drink. I made this with Reeds sparkling spiced apple cider and fresh squeezed orange and lemon juices. Yum! I can't say the mint garnish added to a julep flavor but that's okay because I liked it without the taste of mint. Made for the Holiday tag game.

Delicious! This is the drink served in a 4 ounce glass with every breakfast and lunch at the Applewood Farmhouse Restaurants in Gatlinburg and Sevierville, Tennessee. My brother-in-law asked for the ingredients on his last visit, and he quickly jotted them down on the carry out menu. The drinks aren't garnished with mint there, but look beautiful served that way! Perfect with Applewood Farmhouse Apple Fritters! Thanks for posting!