gailanng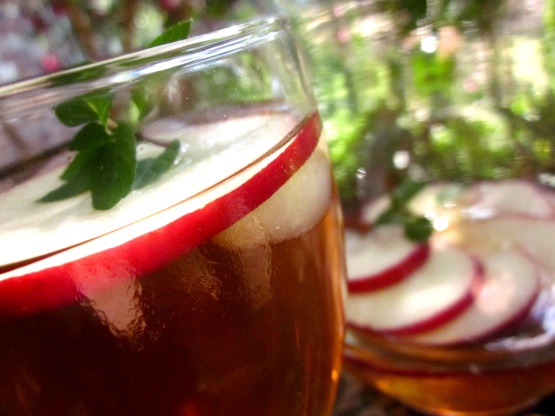 Smooth with the exact amount of mint so as not to wash out the apple/tea flavors. Though perfectly light and refreshing as is, I added sugar because I like mine a tad sweeter. To compensate, my New Year resolution is to throw out all non-essential numbers...age, weight, calories, etc. What I don't know can't hurt me. Made for A-NZ Recipe Tag #58.
3

peppermint tea bags

2

cups apple juice

6

mint leaves, torn
ice cube, to serve

2

apples, halved, cored, thinly sliced
Place tea bags in large heatproof jug.
Pour 2 cups boiling water over them.
Stand 10 minutes.
Discard bags, stir in juice and mint.
Chill for one hour.
Add ice and apple slices.
Stir and serve.