Karen..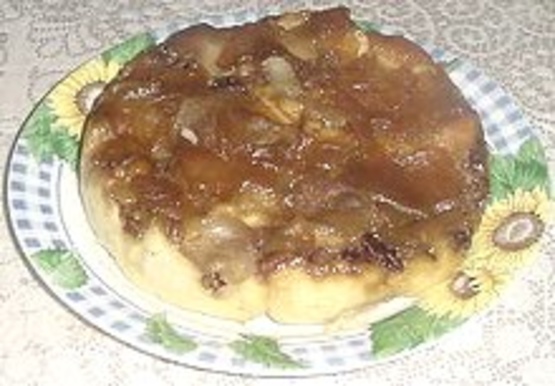 In olden days this pudding was cooked in a Dutch oven hanging over an open fire. The name "Grunt" presumably came from the sound the pudding made as it bubbled and grunted beneath the biscuitlike topping.

What a delicious comfort food! I threw this together while waiting for a casserole to get done for dinner. By the time dinner was eaten and dishes were cleared, our dessert was almost done. I flipped it out onto a dish and we cut pieces off of it and added a dallop of vanilla frozen yogurt! YUMMY! The walnuts make this special...I left mine in pieces instead of chopping and biting into one was a treat. I needed 3 apples and used 1 granny smith and 2 golden delicious. Thanks for posting this VERY unique and yummy dessert. It is great that it can be made right on the stove top!
Melt butter in an 8-inch Dutch oven.
Remove 2 tablespoons of the butter and place in a mixing bowl.
Add the brown sugar to the Dutch oven and stir until dissolved.
Arrange apples over the brown sugar.
Sprinkle with walnuts.
Add eggs, granulated sugar, and milk to the bowl with the 2 tablespoons butter.
Mix in the salt and baking powder, then add the flour, mixing until smooth.
Pour batter over the apples.
Just cover it tightly and simmer over low heat for 1 hour.
Loosen cake from sides of pan with spatula and invert onto a serving platter.
Serve with whipped cream or ice cream.