diner524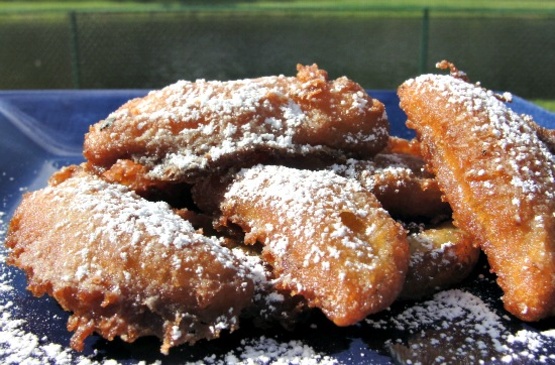 A comforting dessert recipe. Try slicing your apples as evenly as possible so that each fritter is cooked to the same level of doneness. Although this may not be a healthy dessert, it sure is yummy!
Just have to love these batter fried apples!!! I cut the recipe back to serve one, as I was using part of the apple in another recipe for a punch. Living here in FL seems to make a difference in bread type of recipes, as the batter was very thin, so I added some more flour which did the trick and the only other change I made was to add the cinnamon listed with the sugar to dip the apple slices (it wasn't listed in the directions). Thanks so much for sharing the recipe. Made for the Photo Tag Game.
In a blender or food processor, process the flour, salt, egg yolks, butter and cider. Process until smooth.
In a large bowl, beat the egg whites.
Fold the flour mixture into the beaten egg whites, just until combined.
Peel and core the apples; cut into 1/4 inch thick slices.
Sprinkle the apple slices with lemon juice and toss with the sugar.
Heat 4 to 5 inches of oil in a large and heavy-duty saucepan over med.-high heat until the oil is hot enough to sizzle when a tiny bit of batter is dropped inches.
Dip an apple slice in batter - it should be evenly coated with batter, allowing excess batter to drip off. Repeat with several more apple slices.
Carefully drop battered apple slices into the hot oil. Cook 8 to 10 minutes or until the apple slices are cooked through and the batter is puffy and golden. *Work in batches so you don't overcrowd the pan*.
Drain on paper towels.
Repeat until all apple slices are battered and cooked. Let cool., then sprinkle with powdered sugar before serving.