Alia55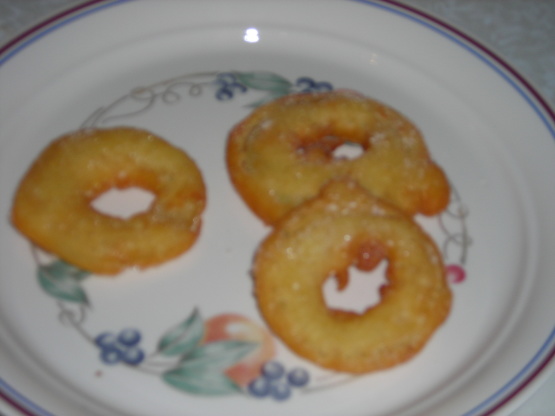 These are great! Best served right away so that they are still very warm. I like to use a tart apple to add a bit of flavor. They are wonderful served with maple syrup for dipping, or lightly dusted with powdered sugar, or cinnamon and sugar.

Top Review by ImPat
The DM, DS and myself have thoroughly enjoyed this as an afternoon treat which bought back memories of doing similar with fresh pineapple rings but I must admit to preferring the tartiness of the granny smith apples to the pineapples with just a touch of sweetness from the icing sugar. Thank you *Alia*. Made for Newest ZAAR Tag 2008.
In a medium bowl, combine flower, sugar, baking powder and salt.
In a second bowl, add milk, one egg yolk and butter.
In a third bowl, add 2 egg whites and beat until peaks are stiff.
Whisk contents of bowl #1 into bowl #2 until smooth. Gently fold in the egg whites.
Pour oil into a medium, pot until it is 2 inches deep. Heat oil until it reaches 350°F.
Dip apple rings into batter, then fry for approximately 3 minutes or until golden brown. Turn once.
Serve while warm.