loof751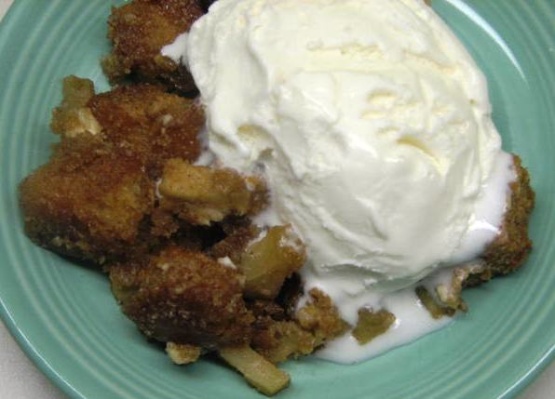 This is a recipe I received from my French teacher at school. It didn't specify a certain type of apple so I used granny smith because I prefer sour, but I suppose it would work with whatever is your preference. I used light cream cheese, I didn't add the walnuts, and I was also able to coat all the bread cubes with just 4 tbsp of butter instead of six, but I'm just putting the recipe on here as it is. I hope you enjoy this as much as I did!

Truly a comfort dessert at its best! We enjoyed this so much! I could have eaten it all myself :) We had with a big scoop of Vanilla ice cream, which really went well together! This is already in my New Favorites Folder for further use another time!
Preheat oven to 350 degrees. Cut bread into 3/4 inch cubes. Place 6 tbsp butter into bottom of a large baking pan. Melt in oven.
Add bread cubes and toss to coat evenly. Bake bread until crisp and slightly browned, stirring occasionally (about 20 minutes). Remove bread from oven and raise temp to 400 degrees.
Simmer brown sugar, water, and cinnamon in a saucepan until the sugar is dissolved and it is syrupy (about 5 minutes). Add 2 tbsp butter to mixture while hot and stir until melted.
Peel and core apples and cut into a small dice. Combine apples, bread cubes, cream cheese cubes, and walnuts. Pour syrup over all and toss to coat.
Butter a 9x13 inch dish well. Pour mixture into buttered dish and spread evenly. Bake in 400 degree oven for 40 minutes. If browning too quickly, loosely cover with aluminum foil.
Serve warm topped with whipped cream or ice cream!