Apple Filled Sweet Potato
BecR2400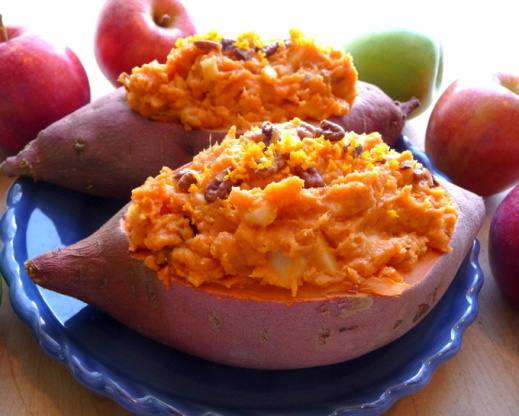 Twice baked sweet potatoes, subtly flavored with orange peel and nutmeg. Land-O-Lakes Cookbook.

Mmmm delicious! We loved the flavor combination of apple, orange, spice and sweet potato. Perfect for a chilly autumn afternoon. Would make a lovely make-ahead dish for Thanksgiving. Thank you for sharing, Daisy! Made for An Apple A Day in the photos forum.
heat oven to 375*F.
prick sweet potatoes with a fork to allow steam to escape. bake for 35 to 45 minutes or until fork tender.
cut thin lenghwise slice from top of each sweet potato; scoop out inside, leaving a thin shell. set shells aside.
in large mixer bowl place hot sweet potatoes and remaining ingredients, except apple, chopped pecan and pecan halves.
beat at medium speed, scraping bowl often until well mixed and no lumps remain.
by hand, stir in apple and chopped pecans.
place shells on a 15x10x1" baking pan. fill shells with sweet potato mixture.
if desired, garnish each potato with pecan halves.
bake for 15 to 20 minutes or until heated through.
Tip: if desired do not stuff shells. spoon hot sweet potato mixture into serving bowl. if desired toast pecan halves and use to garnish sweet potato mixture.