CarolAT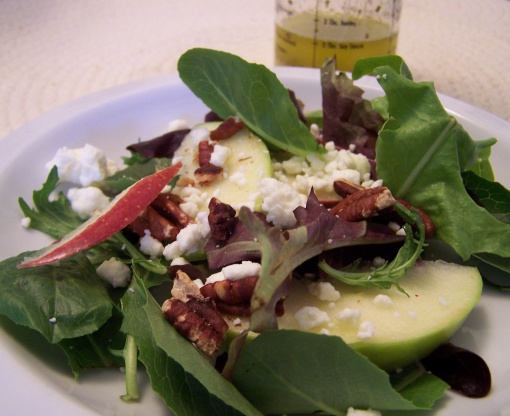 This is my favorite salad. It has so many yummy things in it.

The dressing really makes this salad really something special. The combination of the apples,crisp lettuce, crunchy pecans, and the tart dressing were a perfect combination. I served this at a family lunch for 6 people so I made only half of the dressing. Wish I had made more because everyone wanted more. Thanks for posting this recipe. Made for My-3-Chefs June 2008.
Mix dressing ingredients first so that flavors can blend. In a small skillet melt butter over medium heat. Add pecans, sprinkle with sugar and pepper. Stir until well coated, spread onto a baking sheet. Bake for 5-7 minutes. Cool on a wire rack. In a large bowl combine the remaining ingredients. Drizzle dressing over salad, add pecans and toss salad right before serving.