eva22eva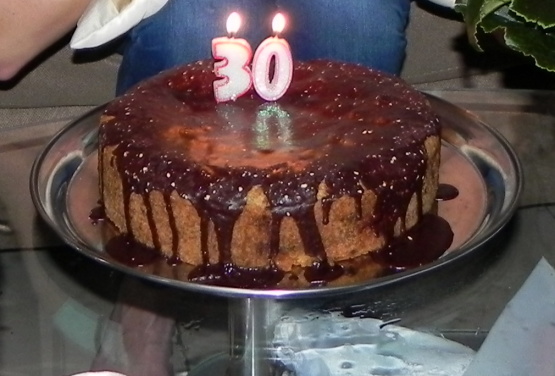 I first found this on International Recipes Online, and it sparked my interest because it's supposedly from New York (New York does have great apples). It's a very simple cake, and doesn't have any cinnamon in it, so it's become my daughter Nomi's favorite.

What an absolutely wonderful cake! Each mouthful is different; one mouthful you might get choc. chips and cherries, another, raisins and nuts, and always apple. The varied fruit/nuts/chips combo works really well together. I used two large Granny Smith apples and increased all the rest of the fruit/nut/chips to 1/3 cup each as I was just too lazy to get out my 1/4 cup measure. I don't think the cake suffered for my increasing these ingredients and I didn't have a problem with the cake overflowing my bundt pan. I took the cake to work and everybody loved it! This is a great, reliable and delightful cake which I will definitely make again!
Grease and flour a large fluted cake pan.
Preheat oven to 325 degrees F.
Beat oil, milk, extract and sugar till well combined.
Beat in eggs to combine.
Sift dry ingredients together and beat into to wet mixture and combine well.
Stir in fruits and nuts.
Turn batter into pan and bake until tested done with wooden toothpick- about 60 to 75 minutes.
Cool in pan 15 minutes and remove to rack to cool well.
Wrap overnight before slicing for best flavor.
Dust with sugar/cocoa.
Freezes well.