CIndytc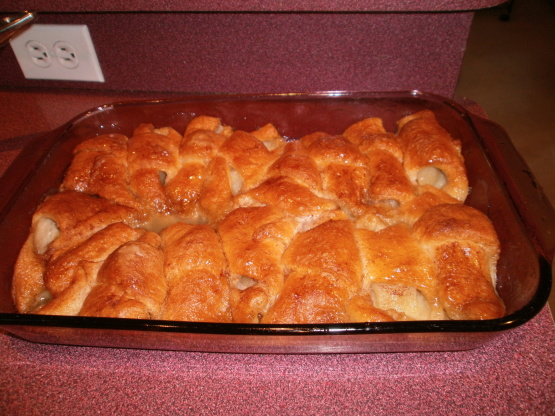 A co-worker brought this pastry recipe to work one morning during the holidays. It just melts in your mouth and the flavors are so wonderful. If she hadn't given me a copy of the recipe, I never would have guessed you use Mountain Dew. This will quickly become one of your favorites! February 2004, I just wanted to update this recipe. I've been using Splenda and Diet Sierra Mist in place of sugar and Mountain Dew. It still tastes the same.

Amazing recipe, I made it once following the recipe and it was good. Then a made them again with the apples tossed in cinnamon and sugar and also baked for 10 min before the sauce was pored on and they turned out so much better.
2

(8 ounce) cans crescent rolls

1

cup butter

2

cups sugar

1

teaspoon vanilla

10

ounces Mountain Dew soda
Peel and slice apples into 16 slices.
Roll 1 apple slice into each crescent roll and place into 13x9-inch baking dish.
Melt butter, sugar and vanilla in a sauce pan (do not caramelize)!
Just enough heat to melt the sugar.
Pour over rolls, sprinkle with cinnamon; then pour Mountain Dew over the top of rolls.
Bake for 30 minutes at 350°F.
Then cover with foil and bake another 10 minutes.
Serve warm and enjoy!