loof751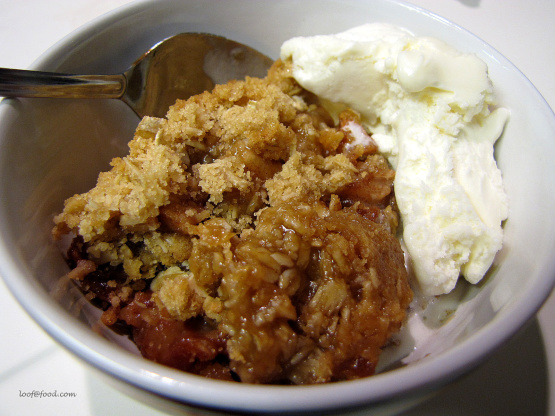 This is a rich dessert that is best served warm, topped with vanilla ice cream.

Top Review by karen
I followed this recipe exactly using butter rather than margarine. I have to admit that when it first came out of the oven, after cooling a bit, I thought it was too sweet. But after letting it cool completely in the fridge, I loved it the next day. I served it warmed up in the microwave with a spoonful of cool whip and it was wonderful. Given that it was really sweet, I would probably try cutting down the brown sugar and the regular sugar just a bit next time...just to see if I liked it better that way right from the oven. But if you love over the top sweetness, I would leave the recipe just the way it is.
Mix the oats, 1/2 cup flour, and brown sugar in a bowl; cut in the butter or margarine until crumbly. Place half of the mixture in the bottom of a greased 8x8" baking dish.
Combine the apples, 1 tablespoons flour, cinnamon, salt, water, and granulated sugar; place in the baking dish over the oat mixture.
Cover with the remaining oat mixture. Bake at 350 degrees for 45 minutes.