Apple Crumb Pie (Zwt Midwestern Region)
Tisme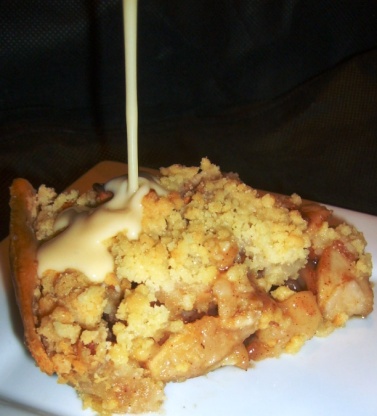 When I was a kid, my mom was always required to bring pies to family gatherings because no one else made them as well. Here is my spicier version of her most popular recipe.

Top Review by Tisme
Wonderful recipe. I made this some time ago and the post never came out so I am reviewing again. I am always a little hesitant about making pies but this pie was so easy, the directions were so easy to follow and it just turned out so perfect, and the taste was just out of this world! I especially loved the crumb topping and even without the pastry I think this would make a wonderful apple crumble. I served mine with custard, but next time it will be ice cream for sure! Thanks pattikay for a wonderful keeper.
Place apple slices in large bowl, mix with sugars, spices and flour.
Pour apple mixture into a pastry-lined 9-inch pie pan.
Mix together 1/2 cup sugar, 3/4 cup flour; cut in butter till crumbly. Sprinkle over apples in pan.
Bake in 400 degree oven for 40-50 minutes.
(Watch for excess browning; may need to cover with foil near the end of baking time.).
Variation:.
Spread double pie crust recipe across a cookie sheet or other long shallow baking pan.
Spread apple mixture on the pastry-lined pan.
Double the topping mixture and spread across apples.
Bake as directed above.
(this version lends itself to providing smaller pieces to a large crowd).