Apple Crostata With Caramel Sauce
Roxanne J.R.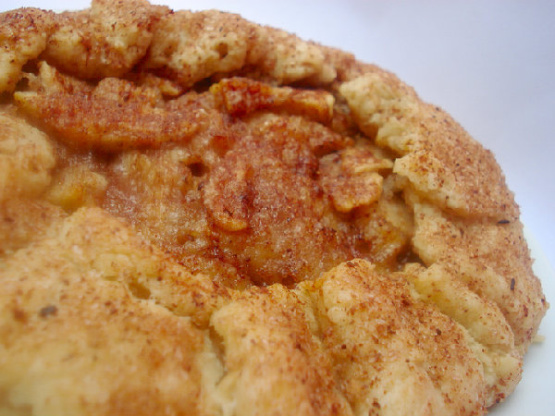 This rustic apple pie comes together quickly when using a premade or refrigerated pie crust. I like to use Jonagold apples sliced pretty thin, about 2 medium will equal the 4 cups.

I make fruit crostata's often and thought I would share a tip that I found online (can't remember where). After you roll out your pie crust (I use parchment) spread 1/2 cup of graham cracker crumbs or cooky crumbs on the crust then put the fruit mixture on top. You will absolutely not taste the crumbs or even be able to tell they are there but they will absorb any excess juice and your crust will always be nice and crisp. I expect this would work for a two crust pie too, but I never make them anymore.
Heat oven to 400ºF.
Mix 1/2 cup sugar and the flour in large bowl. Stir in apples. The sugar-flour mixture will not all stick to the apples; that's OK.
Spread the apple mixture uniformly from center of the dough circle to within 2 inches of edge. Fold edge of dough over apple mixture; crimp edge of dough slightly.
Mix 2 tablespoons sugar, nutmeg & cinnamon; sprinkle over apples and dough.
Cut the 1 Tbsp butter into 5 or 6 small pieces; spread on top of the apples.
Bake 27 to 32 minutes or until crust is golden brown.
Cut into wedges. Serve warm drizzled with caramel topping.