Bev I Am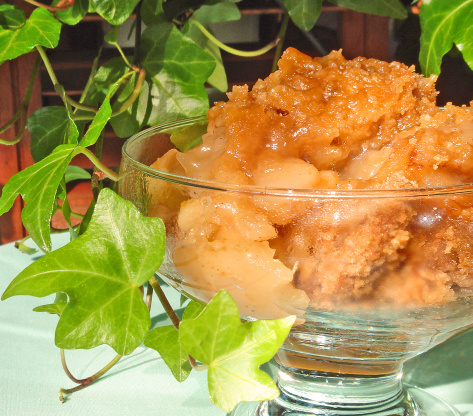 On a cold winter's evening there 's nothing better than a dish of warm Apple Crisp! This recipe, made with the food processor is so simple and so delicious it's worth a try! This recipe came from the 1984 issue of the Southern Living Annual Recipe Cookbook and has become a standard in our house since.
Position slicing blade in food processor bowl, and top with cover.
Arrange apple quarters in food chute with cut side against the blade; slice, applying firm pressure with food pusher.
Place sliced apples in a lightly greased 13x9x2" baking dish.
Combine 1/2 cup sugar, nutmeg, and cinnamon.
Sprinkle over the sliced apples.
Position plastic mixing blade in food processor bowl; place flour, brown sugar, and butter in the bowl.
Top with cover and process until mixture resembles course meal.
Sprinkle mixture over apples.
Bake, uncovered for 1 hour at 300°F.
Serve warm with ice cream, if desired.
Makes 8 servings.