Ozzy5223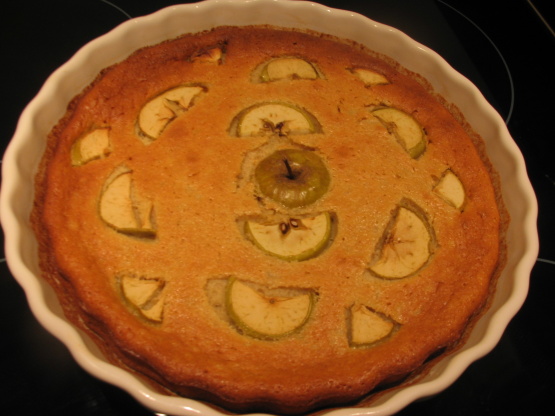 Equally good as a dessert , served hot with whipped cream and/or custard....or cut into cubes when cold and served for afternoon tea. This one comes from my mothers cookbook.

This was a very easy recipe and simple with few ingredients, which i would definitely make again. My effort was more like apple bread pudding but that was because i had too many apples i needed to use so i put a little too many in which made it abit wet but that was entirely my fault! Also i added a large shake of cinnamon which i think added to the taste - impressed with this recipe!
Beat eggs then add cream, salt, and sugar.
Beat well and then lightly stir in the self raising flour and mix well.
Stir in the stewed apple and whisk until the whole is a smooth consistency.
Pour into a greased baking dish and sprinkle with the diced apple.
Bake at 350'F/180'C for 20-30 minutes.
Serve with custard and/or whipped cream. Cold leftovers can be eaten as cake.