Apple Cream Pork Tenderloin
Derf2440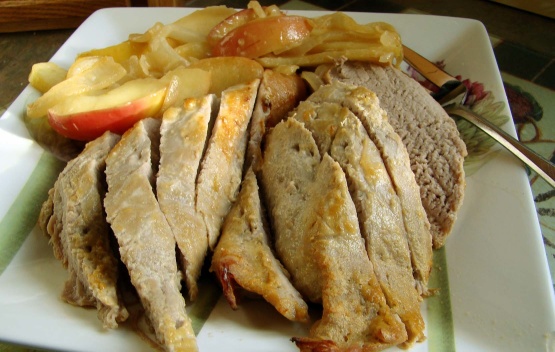 A recipe from D. Jean Rice, of Ohio.

Wonderful Sunday dinner! We enjoyed it very much. The apple / onion was perfect with the tenderloin. Loved the cream mix over the tenderloin, next time I may add just a wee bit more horseradish. The apple/onion with the cream mix added was sublime, great combination of flavours. I just cooked my tenderloin for 35 minutes, turned out perfect, lovely tender and moist. A very flavourful dinner!! Thanks for posting I will be making it again.
Preheat oven to 375 degrees F.
Place pork in a shallow roasting pan.
In a mixing bowl, combine half and half, sherry, Dijon mustard, and horseradish; brush half of this mixture over the pork.
Bake the pork, uncovered, basting with remaining cream mixture, until pork is done to your preference (up to 45 minutes for 155-160 degrees).
Meanwhile, melt butter in skillet; add onions and apples; saute until soft, about 15 minutes.
Place pork on platter and keep warm.
Pour pan drippings and remaining cream/baste into skillet with onions, bring to a boil, and season to taste with salt and pepper.
Serve sauce with sliced pork when serving.