Apple Cranberry Walnut Muffins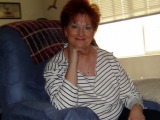 These are so good, especially when they are warm! Butter is always delish on them, and recently I tried cream cheese on them, and was pleasantly surprised! Don't wait until winter to try these!
Directions
Mix flour, baking soda, cinnamon and salt in a large bowl.
In a separate bowl, whisk eggs, sugar, oil, sour cream and vanilla until smooth.
Stir in apple, cranberries and walnuts.
Fold into dry ingredients.
Bake at 350°F, for 20 to 25 minutes.