Nimz1466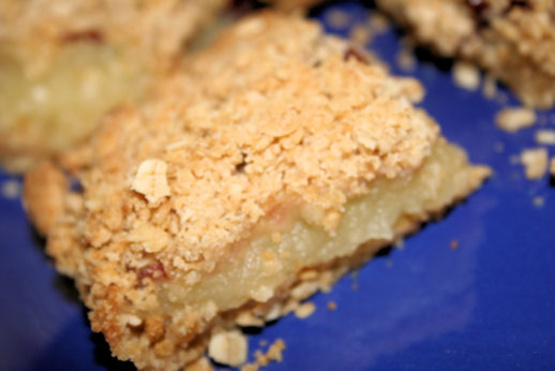 My son loves apple squares. I added some Craisins to the standard recipe and he loves it more now.

After reading the other review I decided to adjust the flour and oats. I used 1 cup oats and 1 1/4 cup flour and that still didn't help with the texture of these. The flour-oat mixture never did set. It stayed crumbly and fell apart when removing from the pan. Nothing like a bar. The flavor was very good though.
Cream butter and brown sugar.
Stir in oatmeal, flour and salt.
Spread half oatmeal mixture in a 8" square glass pan.
Spread applesauce evenly over oatmeal mixture.
Sprinkle evenly with Craisins.
Top with remainder of oatmeal mixture.
Bake in preheated 350 oven for 30 minutes.