Kathy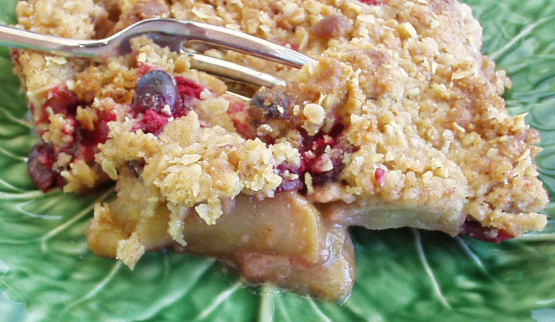 This is a delicious sweet and tart cran-apple dessert!

Top Review by Kathy
Updated Review: I finally made this recipe with the correct ingredients (cranberries, not blueberries). The combination of sweetness (apples) and tart cranberries was delicious. I'll be making this again, and may toss in some chopped nuts or raisins the next time. October 17, 2005 Review: I made this for a dinner party at a friend's house. I had to improvise a bit. I was not able to find cranberries during a last-minute trip to two food stores. After getting over my astonishment that cranberries were sold out and running out of time to make a dessert, I forged ahead with some frozen blueberries I had at home as a replacement. The result was wonderful. I'm looking forward to making this again with cranberries.
Preheat oven to 400 degrees.
In a large mixing bowl, mix all dry filling ingredients together, then add the fruit and toss until well-coated.
Place filling in a 9"x13" greased baking pan and set aside.
In a medium bowl, combine all dry topping ingredients.
Add margarine to dry ingredients, using a pastry blender or fork to cut it in until well-blended.
Sprinkle topping mixture over filling and bake for 40 minutes.