Apple-Cranberry Crumb Tart
Prep 1 hr 30 mins
Cook 1 hr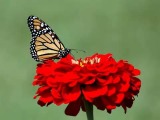 This recipe is taken from an old Food & Wine 1993 magazine. Apples and Cranberries remind me so much of the Fall and this tart is a great holiday dessert.
Directions
Make the dough: In a large bowl, using an electric mixer, cream the butter and sugar on medium speed until light and fluffy. Beat in the egg yolk until incorporated. On low speed, mix in the flour until the dough just comes together. Turn out on a lightly floured surface and knead 3 or 4 times to form a smooth ball. Pat the dough into a 6-inch disk. Press the dough evenly into the bottom and up the sides of an 11-inch by 1-inch fluted tart pan with a removable bottom. Prick all over with a fork. Refrigerate for 1 hour.
Preheat the oven to 375 degrees. Place the tart shell on a baking sheet and bake for 10-15 minutes, until just starting to color. Set aside.
Make the filling: Peel, quarter and core the apples; slice lengthwise 1/4 inch thick. In a bowl, toss the apples and cranberries with the flour. Sir in the sugar and cinnamon. Mound the filling in the tart shell.
Make the topping: In a medium bowl, combine the oats, flour and brown sugar. Pour in the butter and crumble the mixture with your fingers. Pile it on the fruit to cover completely.
Bake the tart for about 40 minutes, or until the topping is golden, the filling is bubbling and the apples are tender when pierced. (Cover loosely with foil if the top gets too brown too soon). Transfer to a rack to cool. Prep time includes refrigeration time for crust.
Reviews
Most Helpful
I changed cranberries with sourcherries as these are a local ingredient and I canned a lot of them.
I used a 10 inch springform (with a removable bottom) and for this reason the tart came out higher!
To the recipes I added the juice of the sourcherries (previous heated with 1 tablespoon cornflour) as well.
I't a delicious tart. The aroma of both fruits melted well together and I will do this again. Next timer perhaps with fresh or frozen sourcherries!
Thanks a lot for this recipe!

What a wonderful way to top off Thanksgiving supper. The shortbread crust is delicious and provides a lot of richness to this dessert. For that reason, I recommend small slices. I didn't have a tart pan, so used an 11" springform pan. For our tastes, next time I'll increase the cranberries, and reduce the sugar slightly in the topping. Many thanks Nancy, for a great addition to my holiday dessert lineup. Made for Fall PAC 2011.