Apple Cranberry Crisps - Chatelaine
PaulaG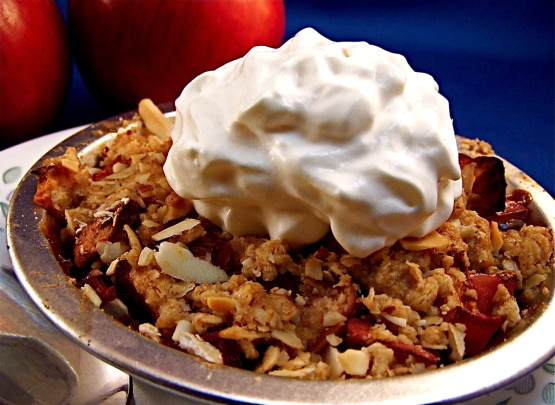 I found this recipe in of all places....the Air Miles magazine. Turns out it's from Chatelaine magazine. This is baked in individual serving sizes, but I expect it could also be made in a 9 or 10 inch casserole dish. Either way...nothing says comfort quite like a fruit crisp. This one especially. Would be wonderful to top off your Thanksgiving or Christmas dinner. I used orange juice in place of the liqueur. Use Granny Smith or any other firm apple because of the long baking time. Individual serving dishes should have a 1-1/2 cup capacity. Oh....don't forget the whipping cream on top ;)
Top Review by PaulaG
There is something very comforting about apple crisp and with the addition of cranberries and almonds it makes it extra special. I was concerned about the quantity of apples; however, the fruit does really cook down and something that must be considered. The spices were added together and the equivalent in apple pie spice was used. I also used the orange juice option. The recipe was reduced to 4 servings nicely and baked in individual pie tins. This is a wonderful winter treat.
Preheat oven to 350*.
Mix all topping ingredients until crumbly. Set aside.
In a large bowl, mix together cranberries, apples, brown sugar, flour, cinnamon and nutmeg.
Stir in liqueur (or orange juice) and vanilla.
Pack mixture among 8 oven-proof coffee mugs or ramekins. Fruit will shrink during baking.
Generously sprinkle with topping.
Place on a cookie sheet and bake for 45 - 50 minutes. Serve warm.