Luschka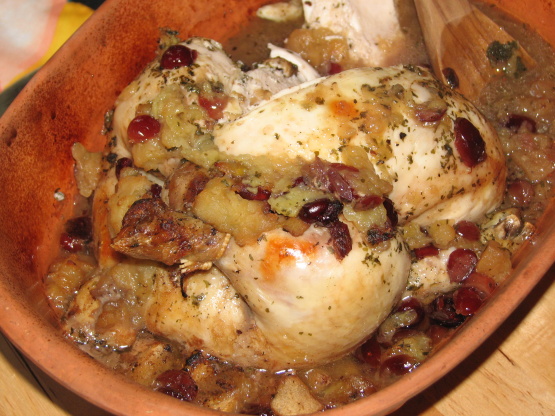 I made this up because I thought the flavors would match perfectly--and they do. The balsamic vinegar is really the key ingredient and adds a nice zip. This is for one serving, but it can be doubled, tripled, etc. to feed a larger crowd.

This was fab. I found a cheese grater was best to grate the carrots, sometimes I use it to grate apples into my recipe too so I think I'll do that next time to create a kind of warm slaw. Added UNsweetened dried cranberries, UNsweetened apple sauce, and walnuts as well.. Completely neglected to add sugar but it still was a bit too sweet for my taste. Love this recipe for fall though, its exactly what I was looking for. I will definitely keep it and experiment with it.
Preheat oven to 350°F.
Cut chicken into chunks or strips and dice apple.
Using a vegetable peeler, peel carrot into strips and sauté until soft.
Add salt and pepper during cooking process.
Deglaze with balsamic vinegar (as much as you want, actually) Stir in apple sauce, cranberries, diced apple, cinnamon, chicken, then pour into oven proof baking dish.
Bake for 15- 20 minutes or until done.
Season with more salt, pepper, cinnamon, sugar if desired.
Note: Feel free to change the amount of any of the ingredients.
The above measurements are approximates because I didn't measure when cooking this recipe.