Apple Cobbler With Oatmeal
Pixie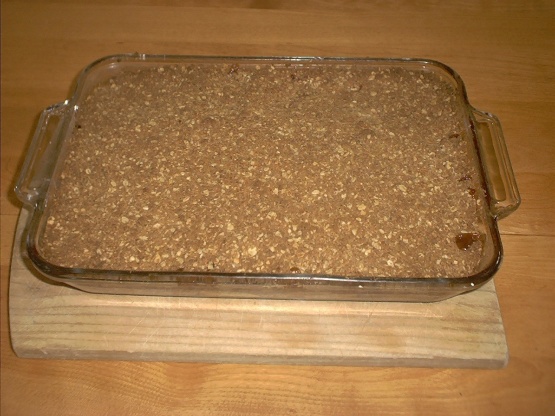 My grandmother's recipe that always has guests begging for thirds! It is easy to make and especially decadent if served with vanilla ice cream

Great basic crisp recipe! We loved it. I used splenda sugar substitutes and healthier fat substitute. Splenda brown sugar blend and Splenda white sugar blend. And Smart Balance 'butter' for baking. Was not 'as good'.... but pretty close! My diabetic boyfriend said it was awesome!
For best results with this recipe, use apples that hold their shape when baking and aren't too tart.
Do not use Macintosh apples (too soft) or Red Delicious (too bland).
I prefer Cortlands or Empires.
Preheat the oven to 350 degrees- if you have a convection oven, do NOT use the convection feature- the dessert will be dry and overcooked on top.
Use the regular baking feature.
This recipe isn't good for microwave use.
Peel and core the apples, then cut them into eighths or into large cubes.
Distribute the apples evenly into a medium-sized ungreased baking dish (I like the white Corning/Pyrex oval dishes) and sprinkle the white sugar and cinnamon over top.
Distribute 1 tbsp of the margarine in dollops throughout the top of the apples (no need to try to stir it in).
In a separate medium mixing bowl, combine the remaining margarine, the oats, brown sugar and flour using your hands or a pastry whisk until it forms a crumbly, dry-ish mixture.
(Note: if you like lots of crumble topping, feel free to double the ingredient quantities for the toppping).
Pour the mixture over top of the apples and spread it out evenly so that all the apples are covered and the edges and corners hidden.
Pat the mixture down lightly so that it looks sort of like a crust.
Bake for 30-35 minutes, until the crumb top has darkened to a golden brown colour.
Remove from the oven and let cool for at least 10 minutes before serving.
Spoon out portions into large bowls and serve with ice cream, thick sweetened yoghurt or milk.